bjarke ingels group has revealed imagery for a floating city concept designed to withstand natural disasters like floods, tsunamis, and hurricanes. made up of a collection of hexagonal platforms which are moored to the ocean floor, the city can hold around 10,000 residents and has the facilities to produce its own power, fresh water, and heat.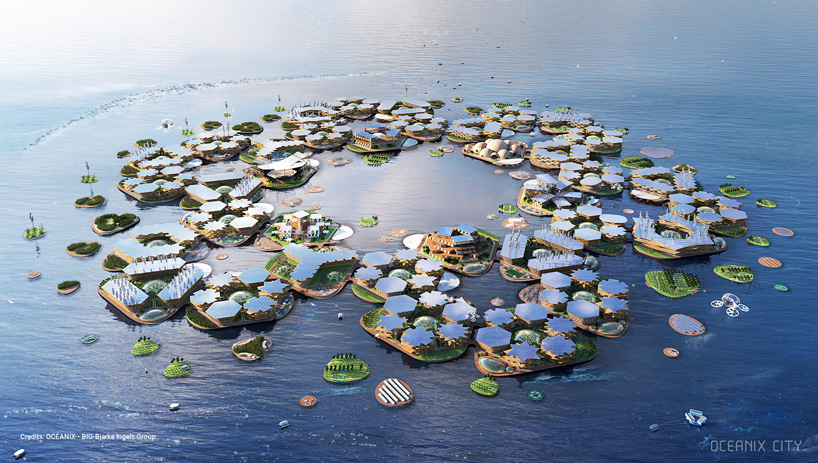 bjarke ingels envisions the floating city to be constructed out of sustainable materials like timber and bamboo. the renderings show a series of modular islands populated by mid-rise structures built using a mixture of glass and glulam beams. ingels conceptualized the architecture so that it could be easily disassembled and reconfigured by future generations of architects.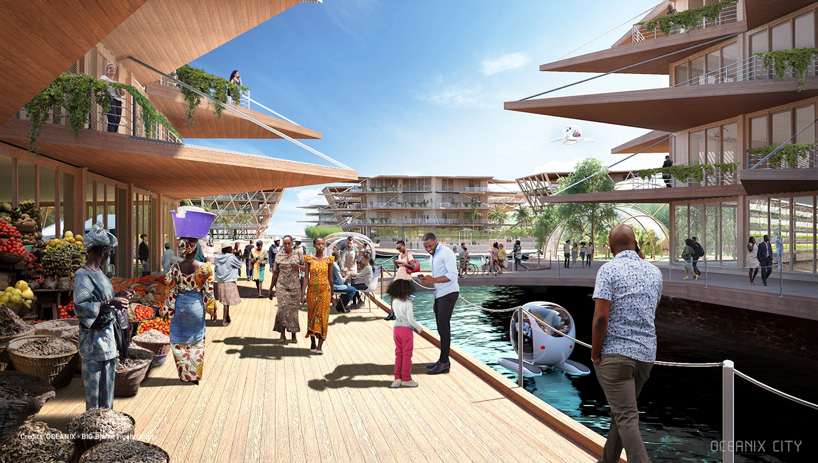 the floating city would sit a mile off shore from major coastal cities but could be towed to other locations in the event of a disaster. adding an extra element of safety, all structures would be designed to withstand floods, tsunamis, and category 5 hurricanes.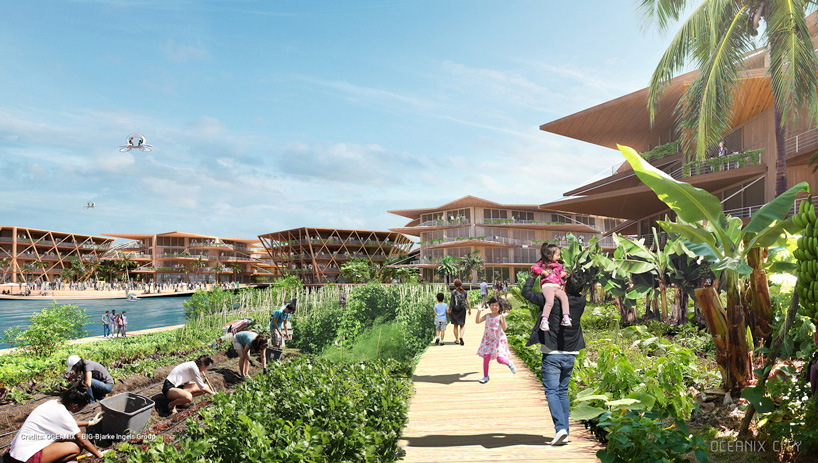 the islands would be bolstered by biorock, a material with a limestone coating formed by exposing underwater minerals to an electric current. the self-repairing material becomes stronger overtime so can withstand harsh weather conditions, is three times harder than concrete, but can still be made to float.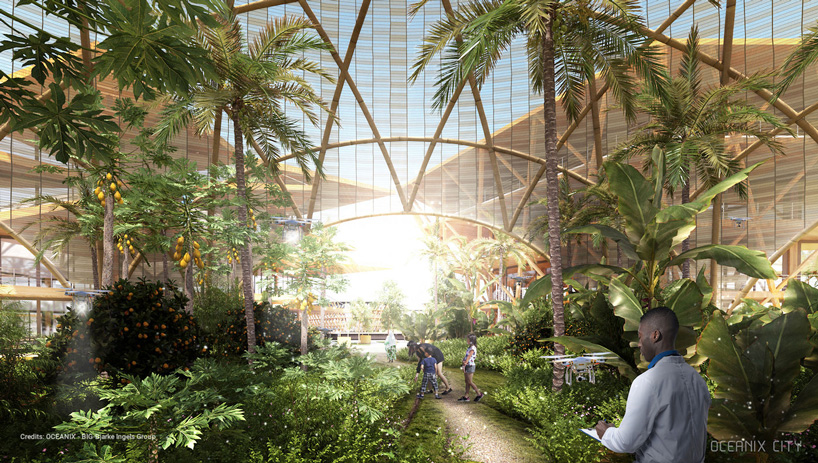 the project addresses housing shortages and threats from rising sea levels by imagining an environmentally friendly habitat. the villages wouldn't allow any high-emitting cars or trucks and would use pneumatic trash tubes to transport garbage to a sorting station, where it can identifies and eventually recycled.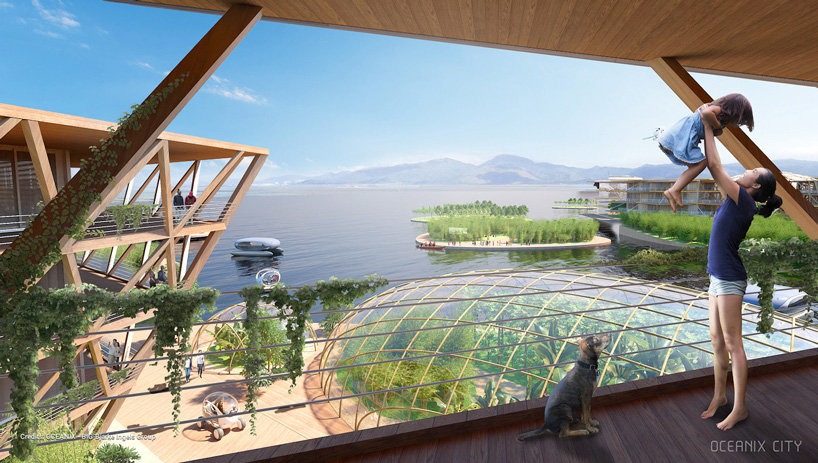 the concept could utilize other new technologies including driverless vehicles, drone deliveries, and ocean farming, which involves growing food beneath the surface of the water. cages underneath the platforms could harvest scallops, kelp, or other forms of seafood. meanwhile aquaponic systems would use waste from fish to help fertilize plants.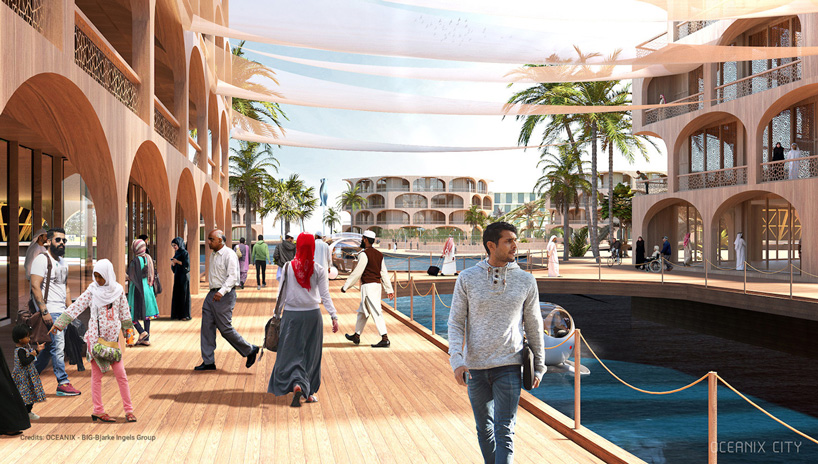 the concept was unveiled at a roundtable in new york on wednesday hosted by UN-habitat, the UN's coalition on affordable and sustainable housing. the project's other collaborators include MIT's center for ocean engineering, the explorers club, and OCEANIX, a non-profit group investing in floating cities on this new marine frontier. the floating city executive director of the UN-habitat said the UN would support and shepherd this project to fruition.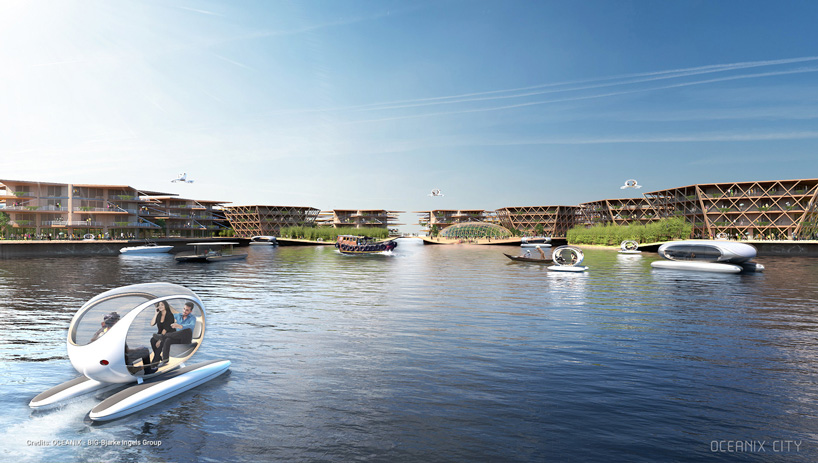 project info
architect: bjarke ingels
collaborators: MIT's center for ocean engineering, the explorers club, OCEANIX
project: oceanix city
status: concept
kieron marchese I designboom
apr 04, 2019
Source : designboom