studio modijefsky's ramona is an eccentric, bohemian bar in amsterdam's lively oud-west area, complete with bold details and unexpectedly layered materials. located on the corner of a quiet canal street and de clerqstraat, ramona combines the characteristics of traditional bars – dark wood, stained glass, protective wall paneling, and mirror finishes – all reinvented with the studio's trademark quirky, playful aesthetic.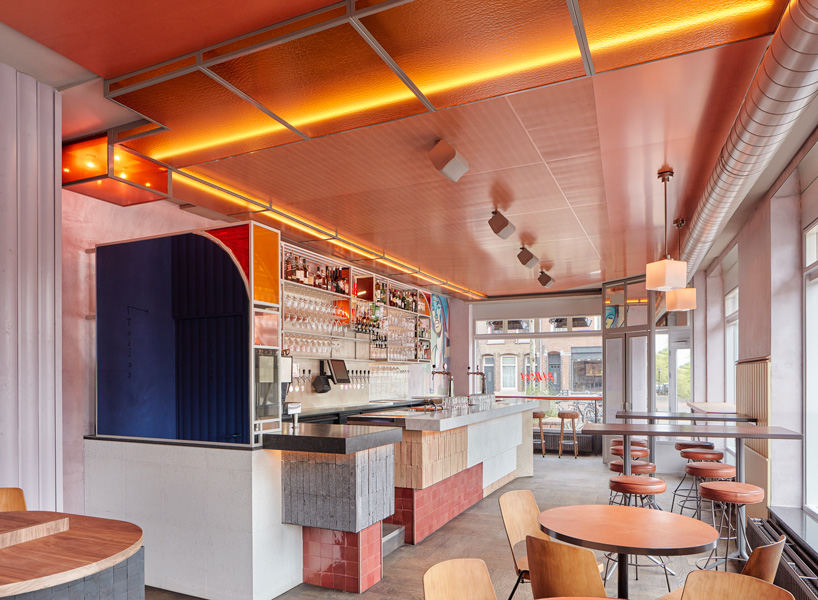 all images by maarten willemstein
studio modijefsky has divided ramona's interior in four areas: the bar, which is located directly by the entrance; a bright eating area further back with tables placed under large windows overlooking the sunny canal; a separate lounge area with raised black marble tile flooring; and at the very back of the venue, the kitchen, whose upper part is clad in bright orange paneling. the dutch firm has embraced features of the existing architecture, using them as quirky references in the new design. the geometrical pattern found in the original stained-glass top windows has been used as inspiration for the sculptural shape of the bar, built out of beige travertine block, white terrazzo tiles and different colored bricks.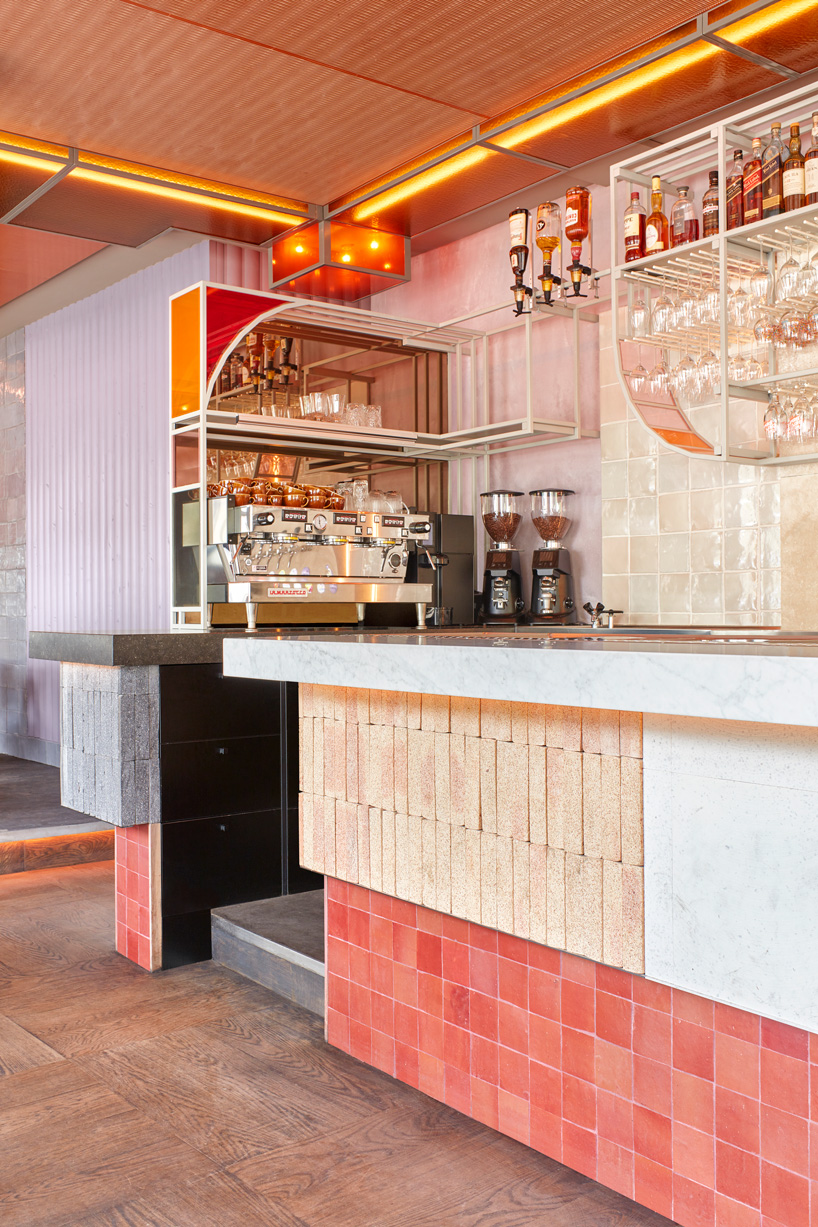 ramona's ceiling is graphically divided, using the building's structure as guidelines, into a grid of acoustic panels, framed by linear lightboxes, which emit a diffused warm light, shining through old fashioned yellow figure glass. the interior combines dark, moody wood tones of smoked oak with brighter shades of lilac, dark red and almost neon orange. contrasting textures are boldly layered on top of one another, like the wall menu written on orange glass and set against yellow linoleum panels. the scale and size of finishes changes between different zones, with gradually smaller patterns leading customers throughout the space.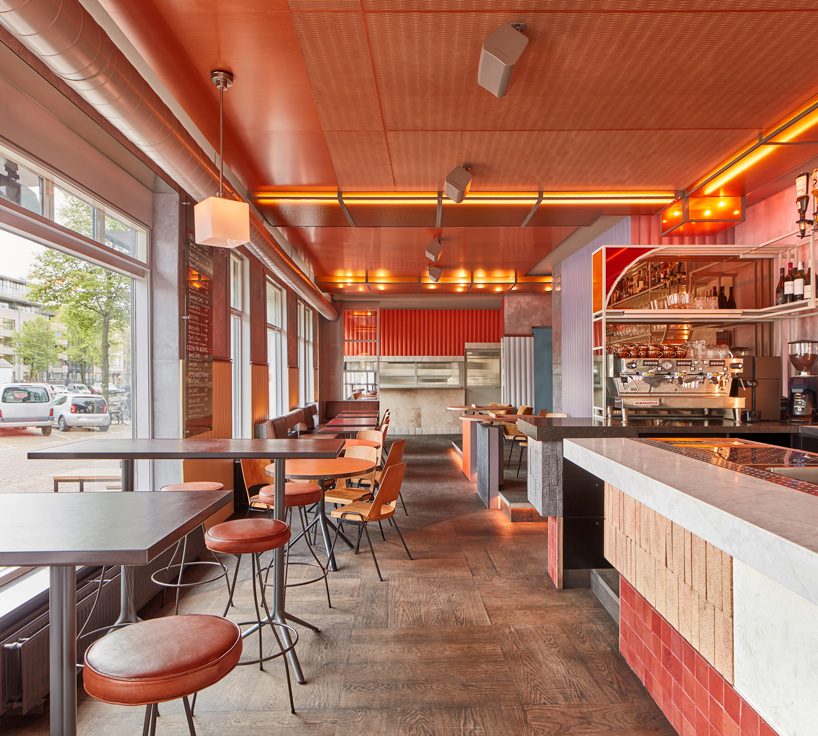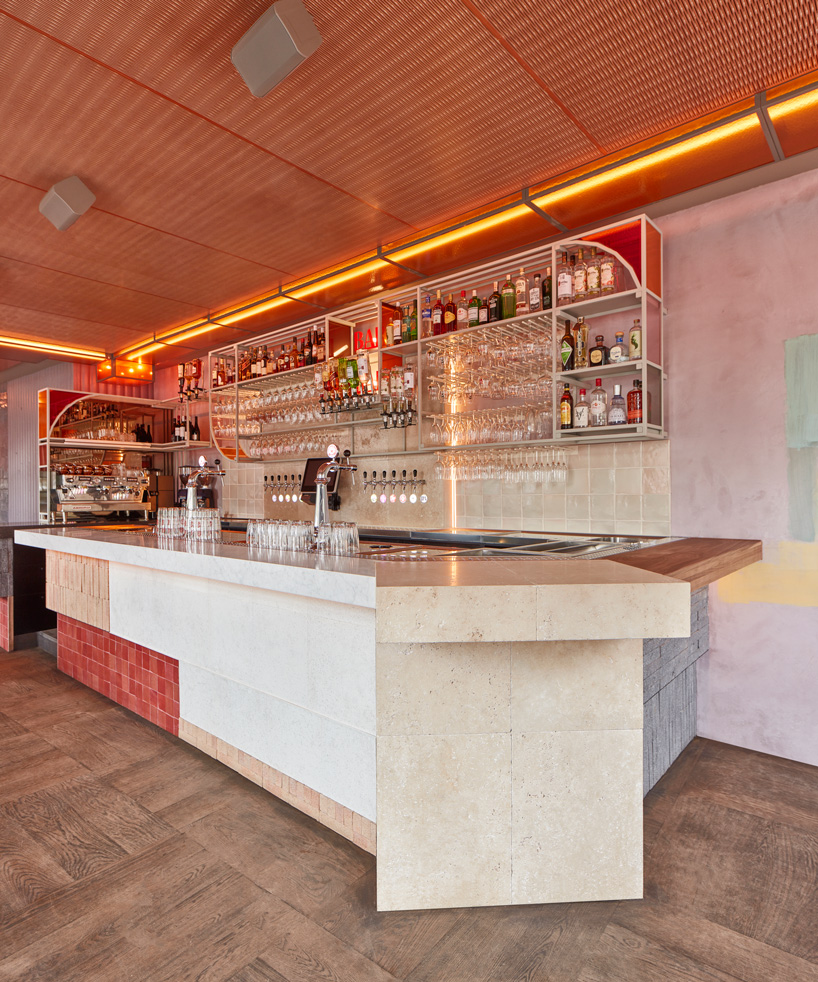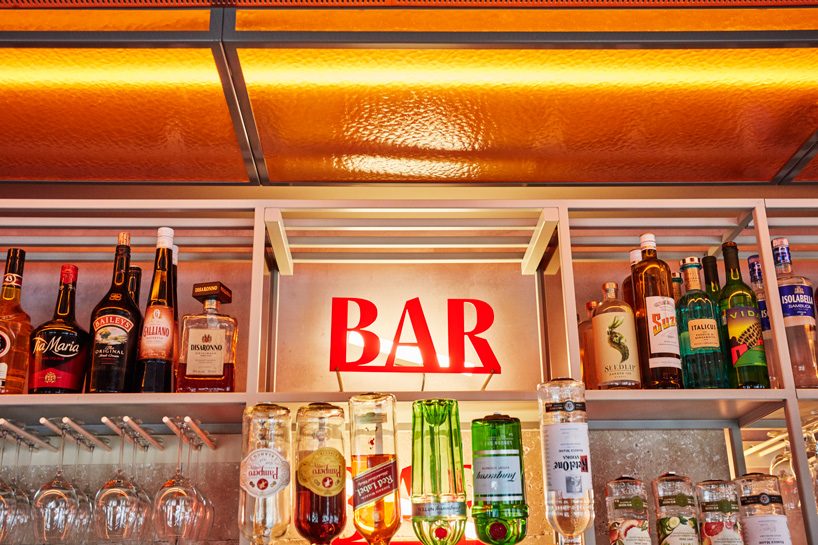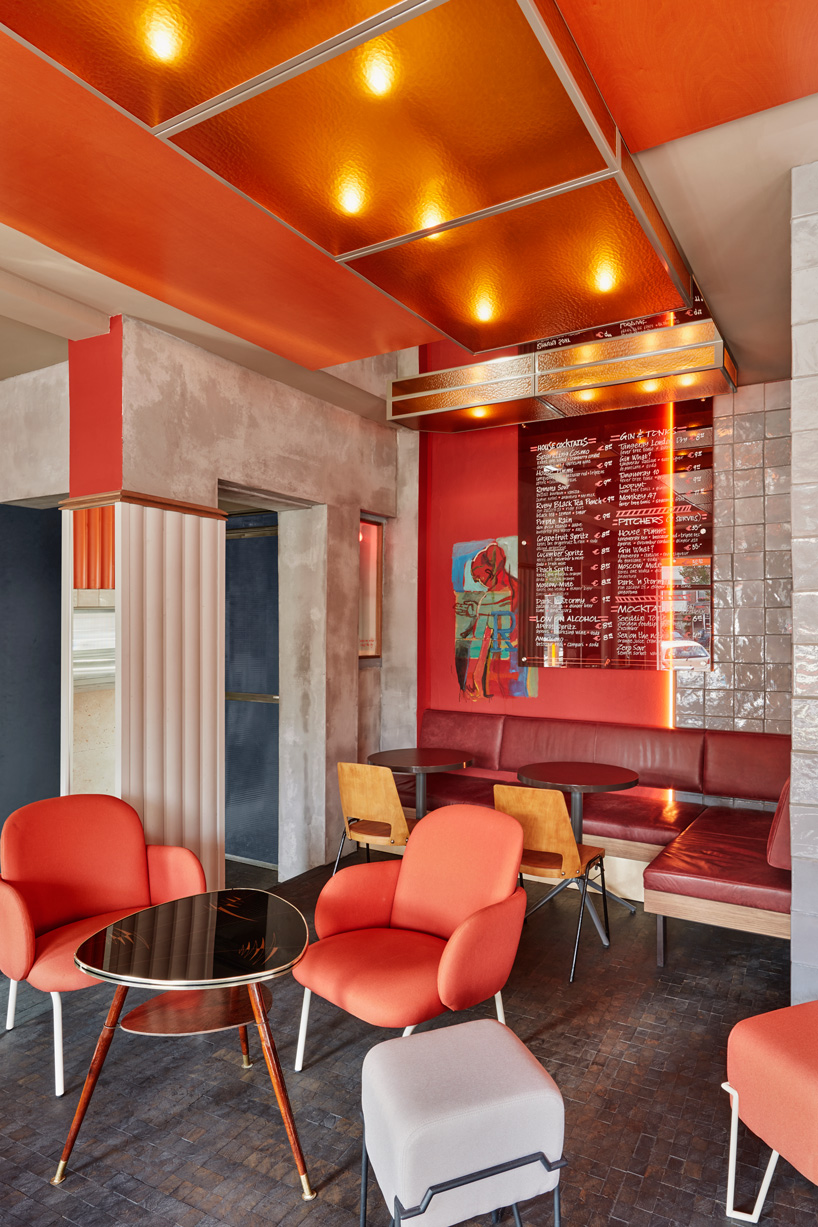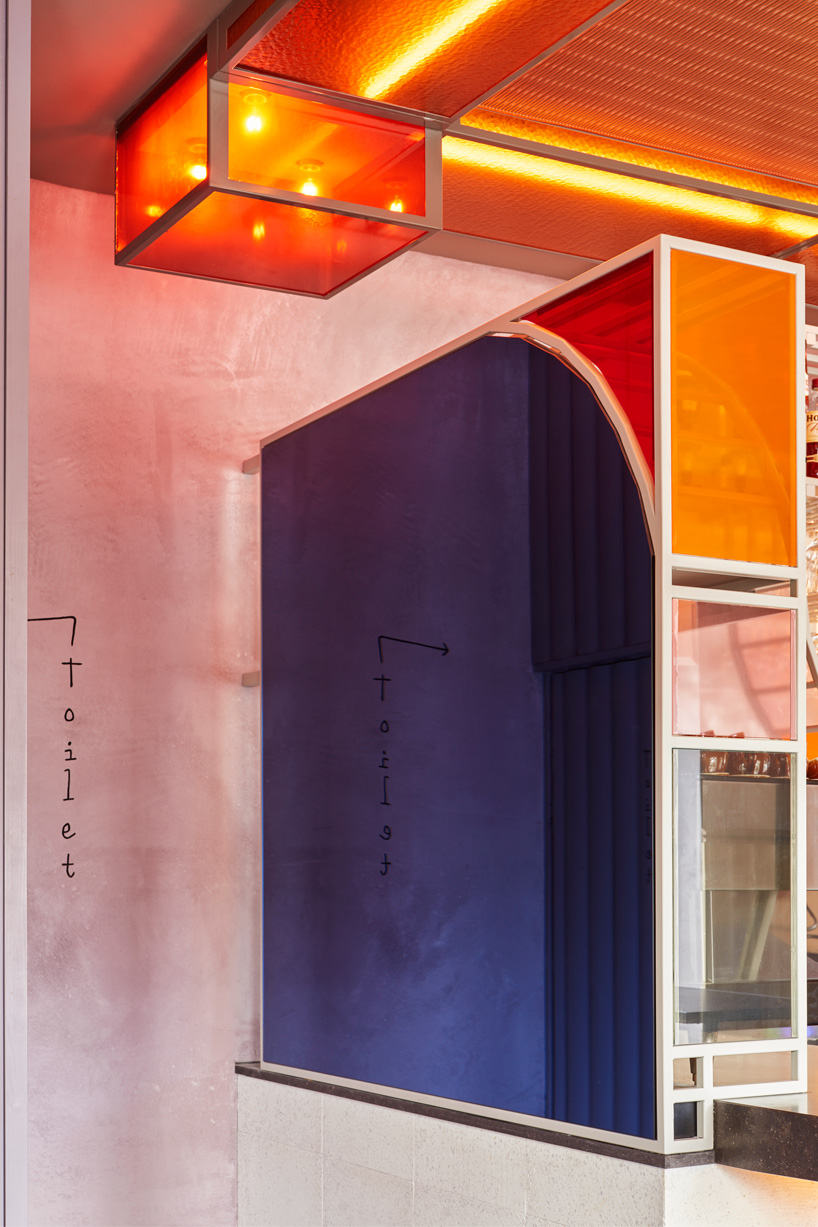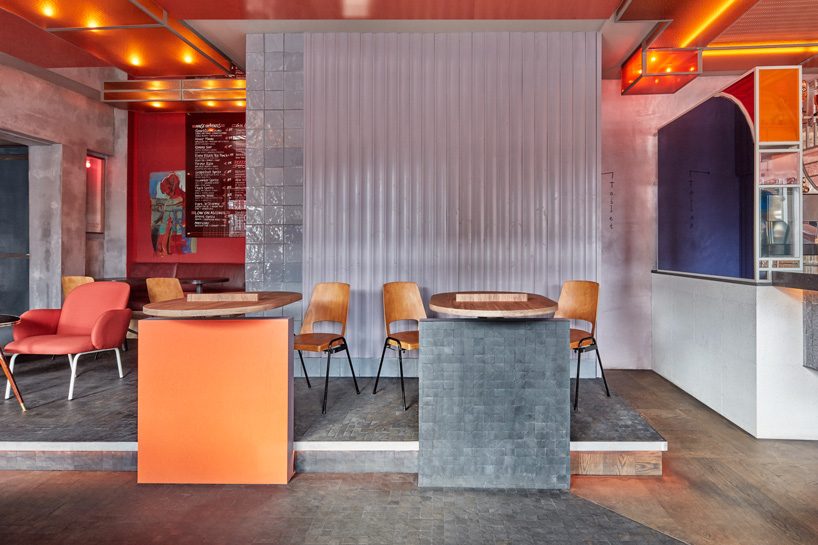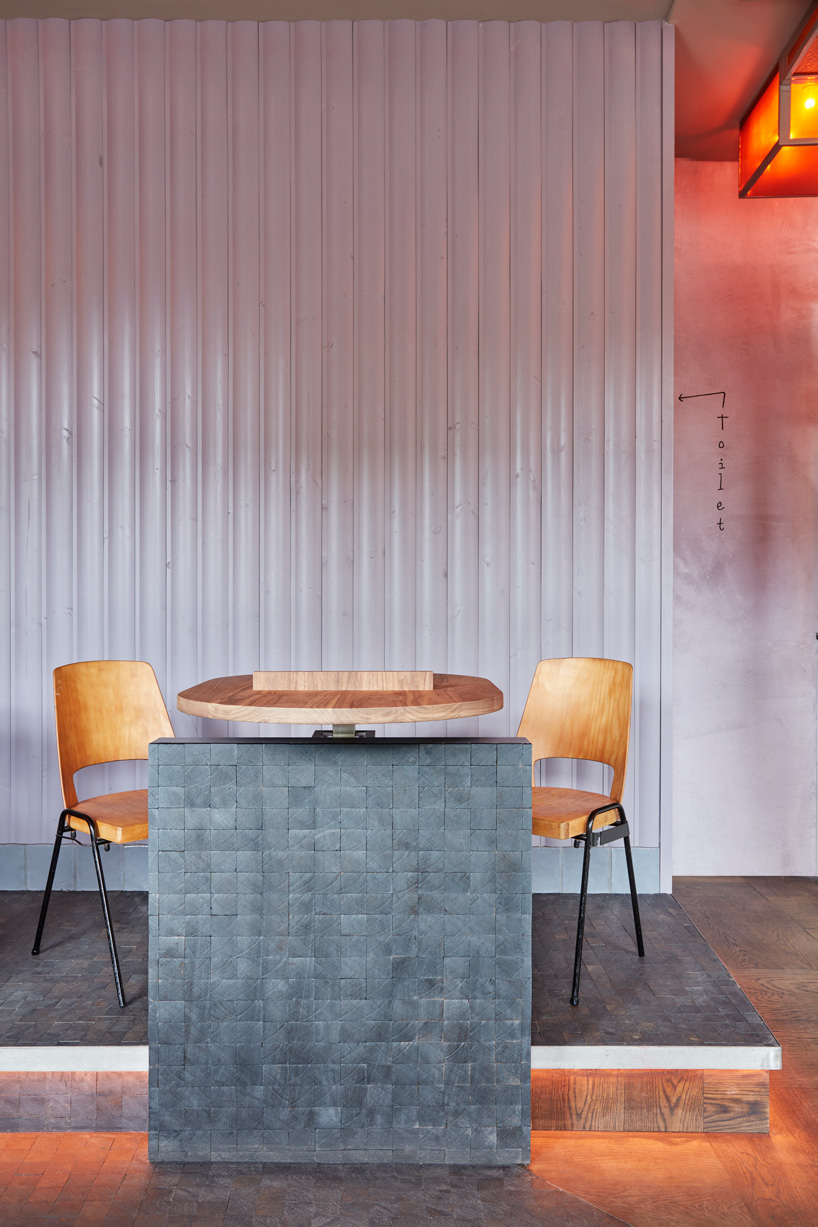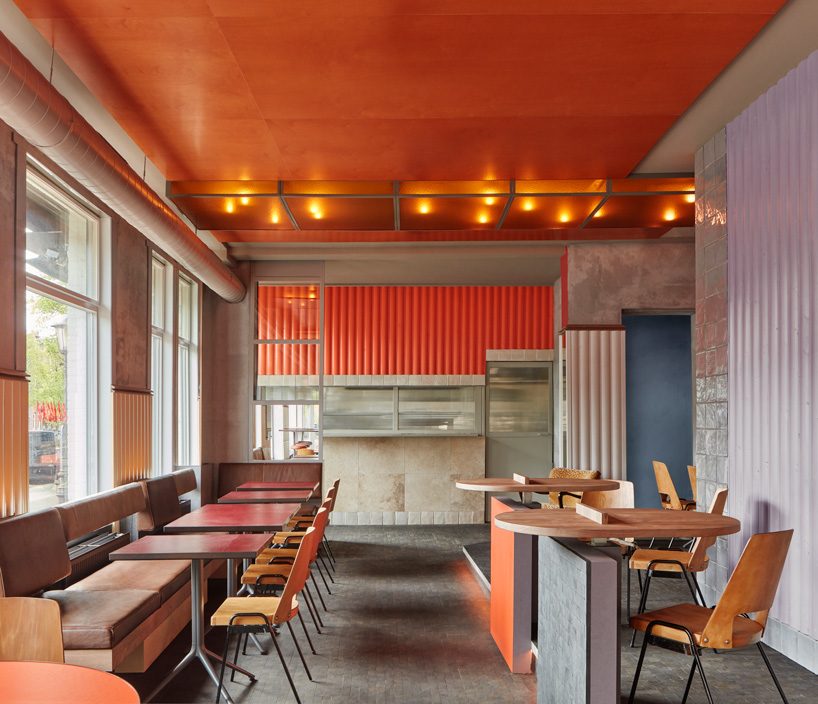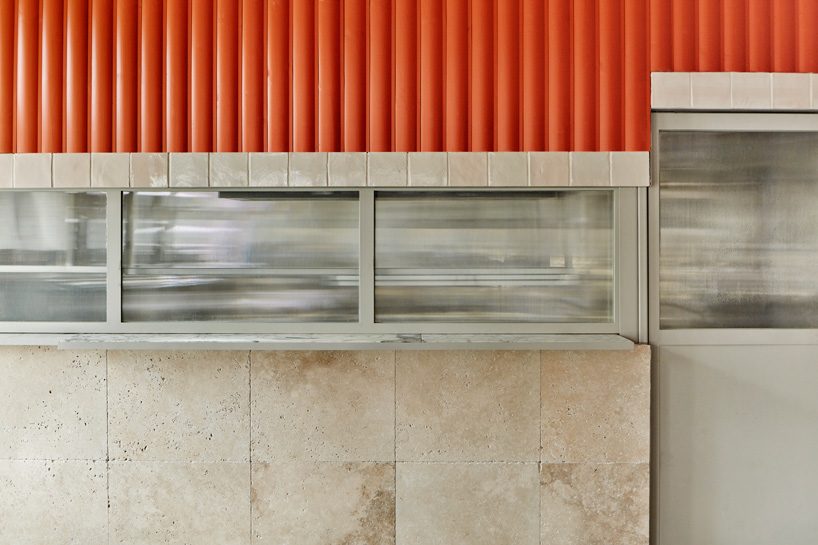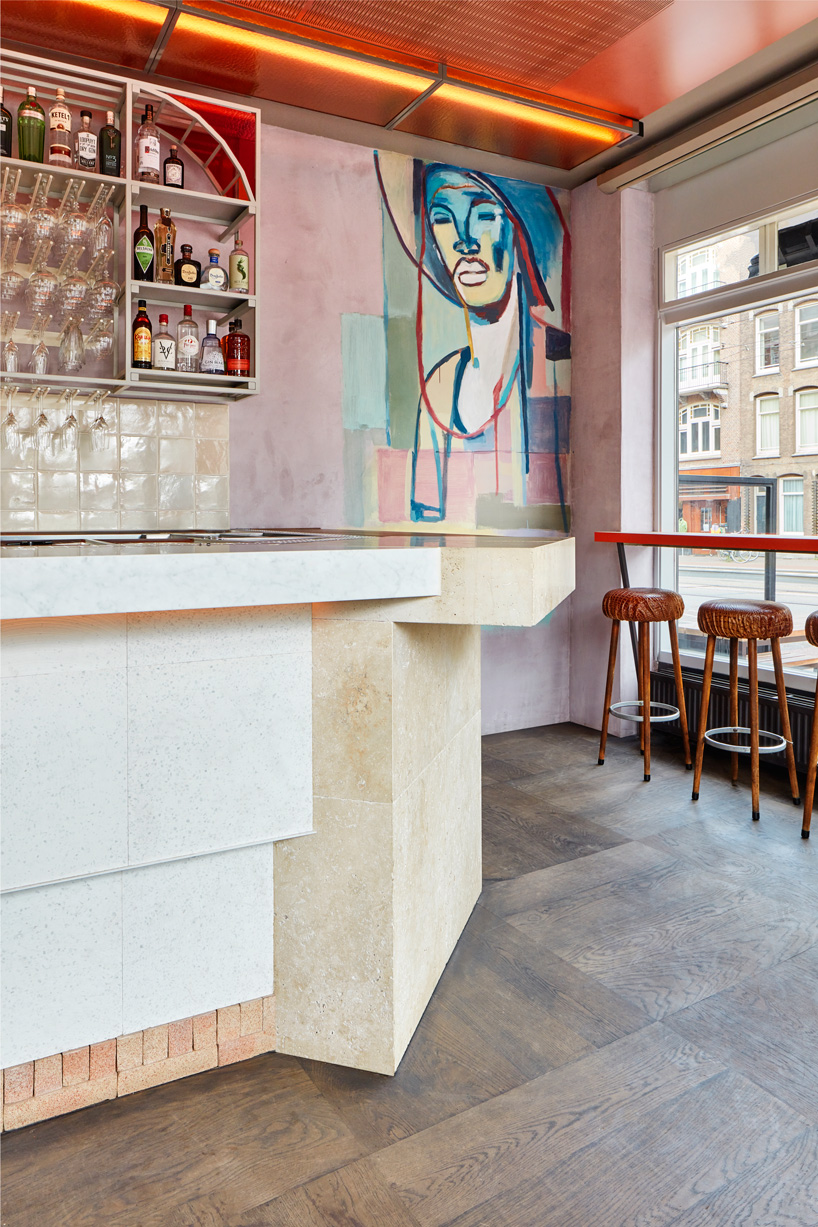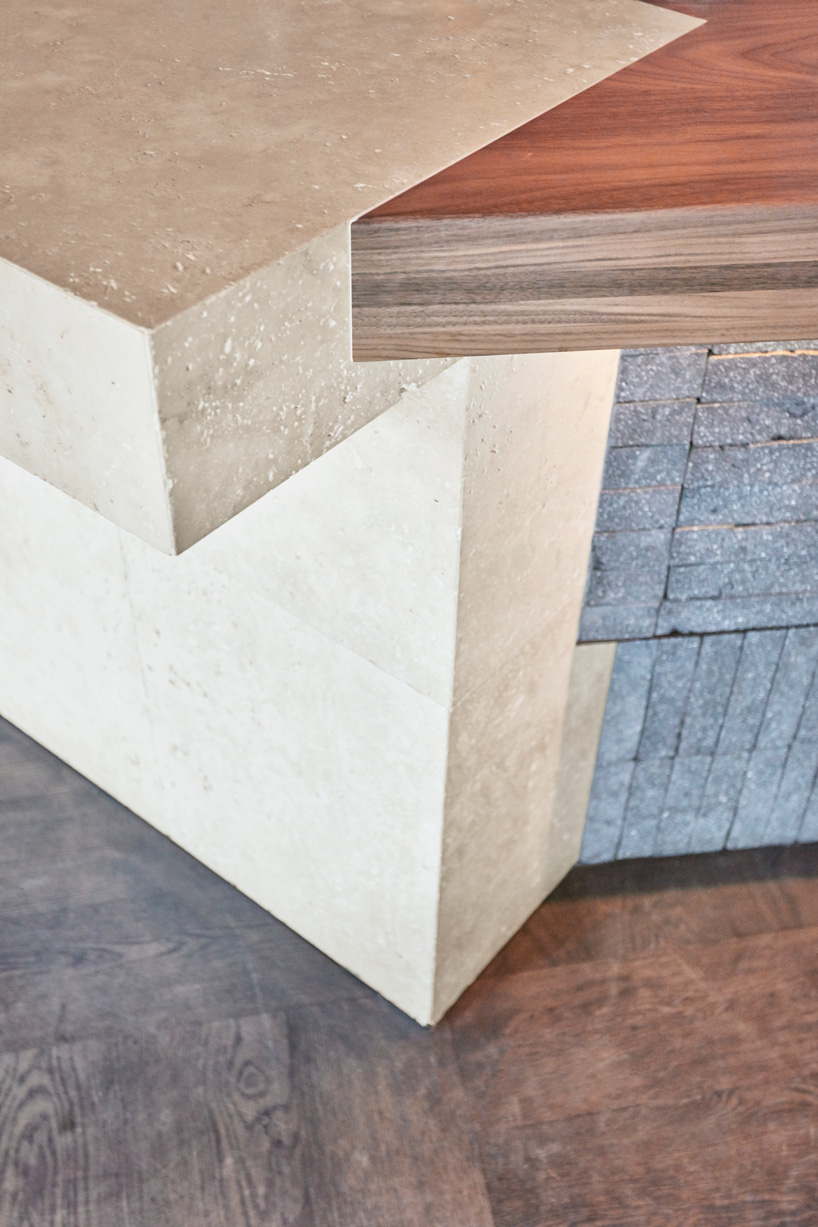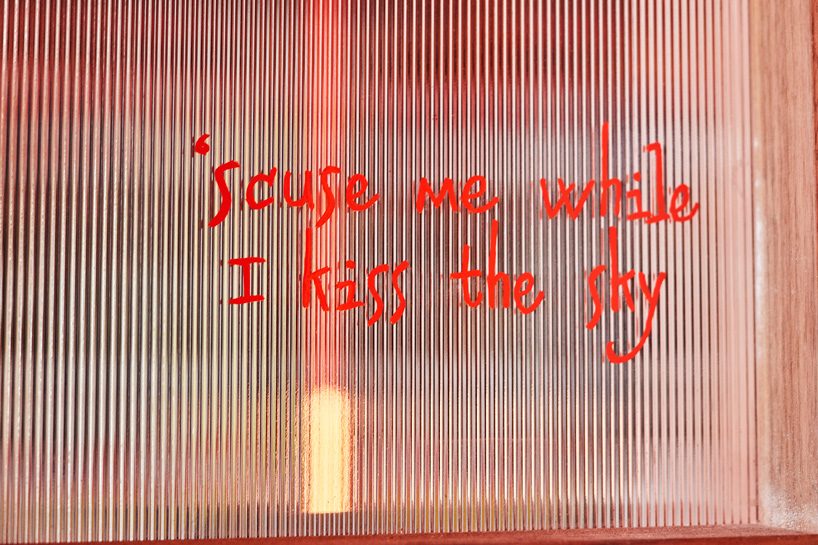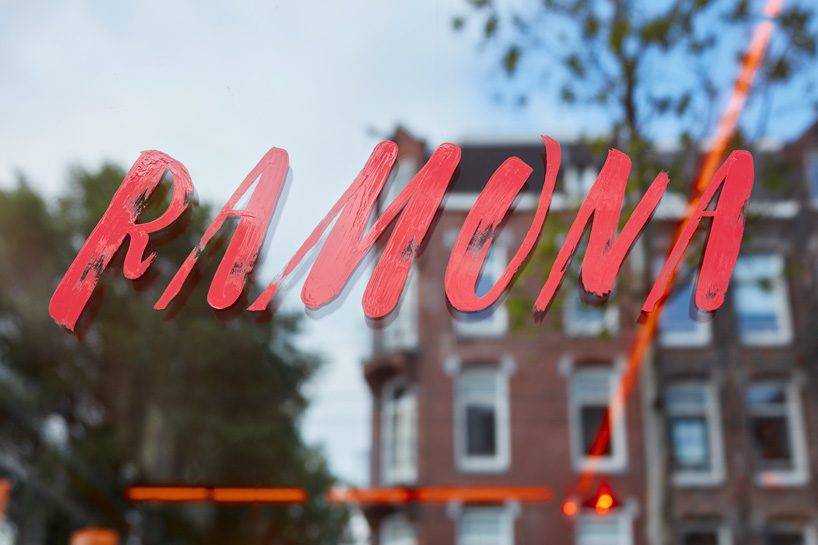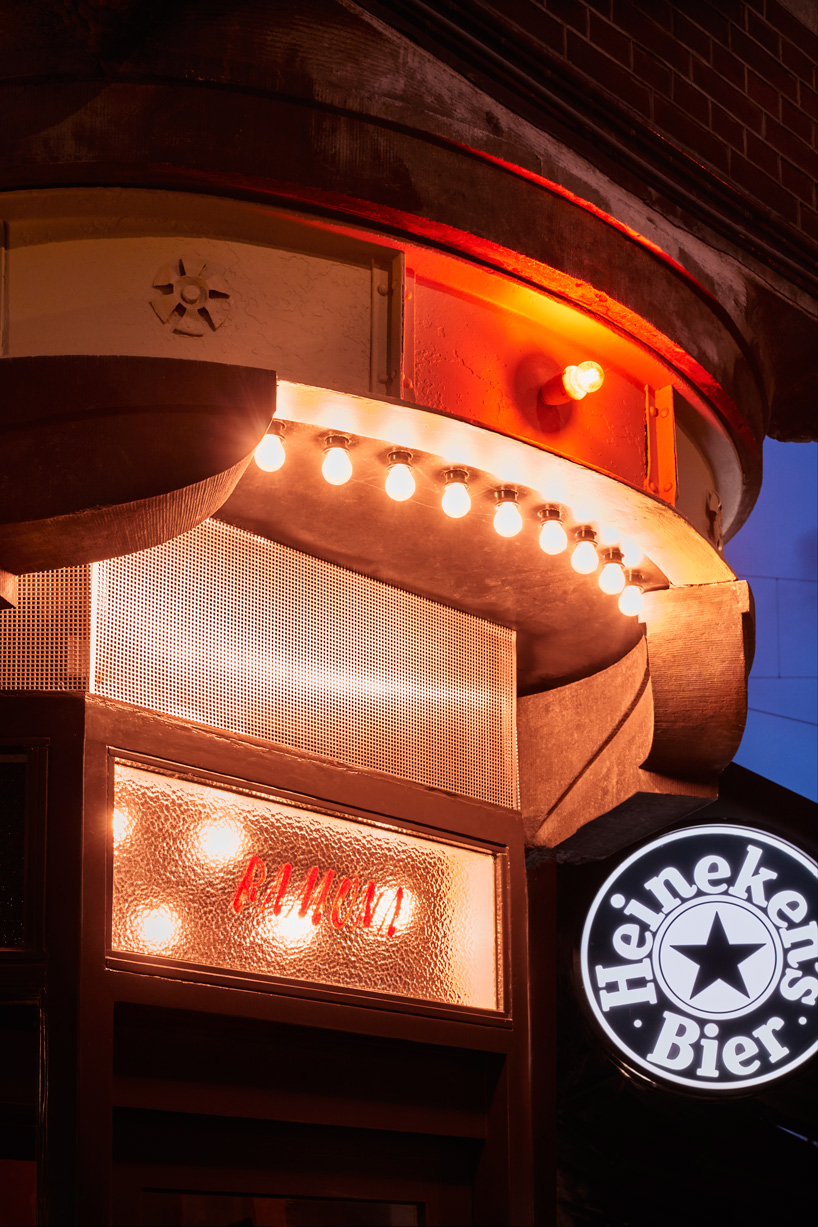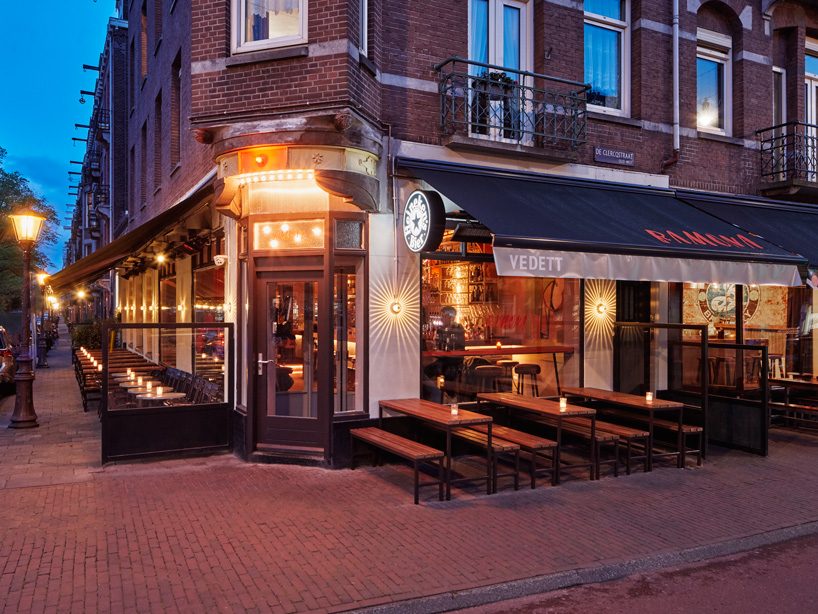 project info:
name: ramona
architect: studio modijefsky
main use: restaurant cafe
assignment: interior design & brand identity design
team: esther stam, moene van werven, nancy katri, agnese pellino, natalia nikolopoulou, zahra rajaei
client: drie wijzen uit oost & bram smit
size: 110 m2
location: de clercqstraat 79h , amsterdam, the netherlands
sofia lekka angelopoulou I designboom
may 24, 2019
Source : designboom